I haven't even finished blogging about some of my ideas from that trip yet - thoughts on creating new looks based on gorgeous antique and retro garments I talked about and photographed in the V&A - before a new book purchase* get me heading out to search the free on-web collection at the
V&A
museum, to look up more details from several historic beauties mentioned in this delicious book.
What's the appeal? Not only are were the
edges of these silk strips left raw, the gathered band
was also twisted in a sinuous pattern.
As a result, I have fallen for a dress.
It's one of those sewing danger things, right? Bad enough when the inspiration garment is something I might wear only once to a wedding or a performance at the opera, but I had to get knocked over by an embroidered silk doozy from the late eighteenth century.
We're talking here about twenty or thirty yards of silk. We're talking about major ruffles and teacups. We are talking about something that would not even fit through the door of the mini van!
It's the pinked and scalloped strips of silk on this gown** from the late eighteen century
that have me itching to come up with a modern way
to use this style of embellishment. But I haven't been able to see past the style of this lovely, but totally impractical for modern times (!) sack-back gown. I couldn't see it in a vest, jacket or skirt. OK, I could but the look would have been waaayyyy too fussy.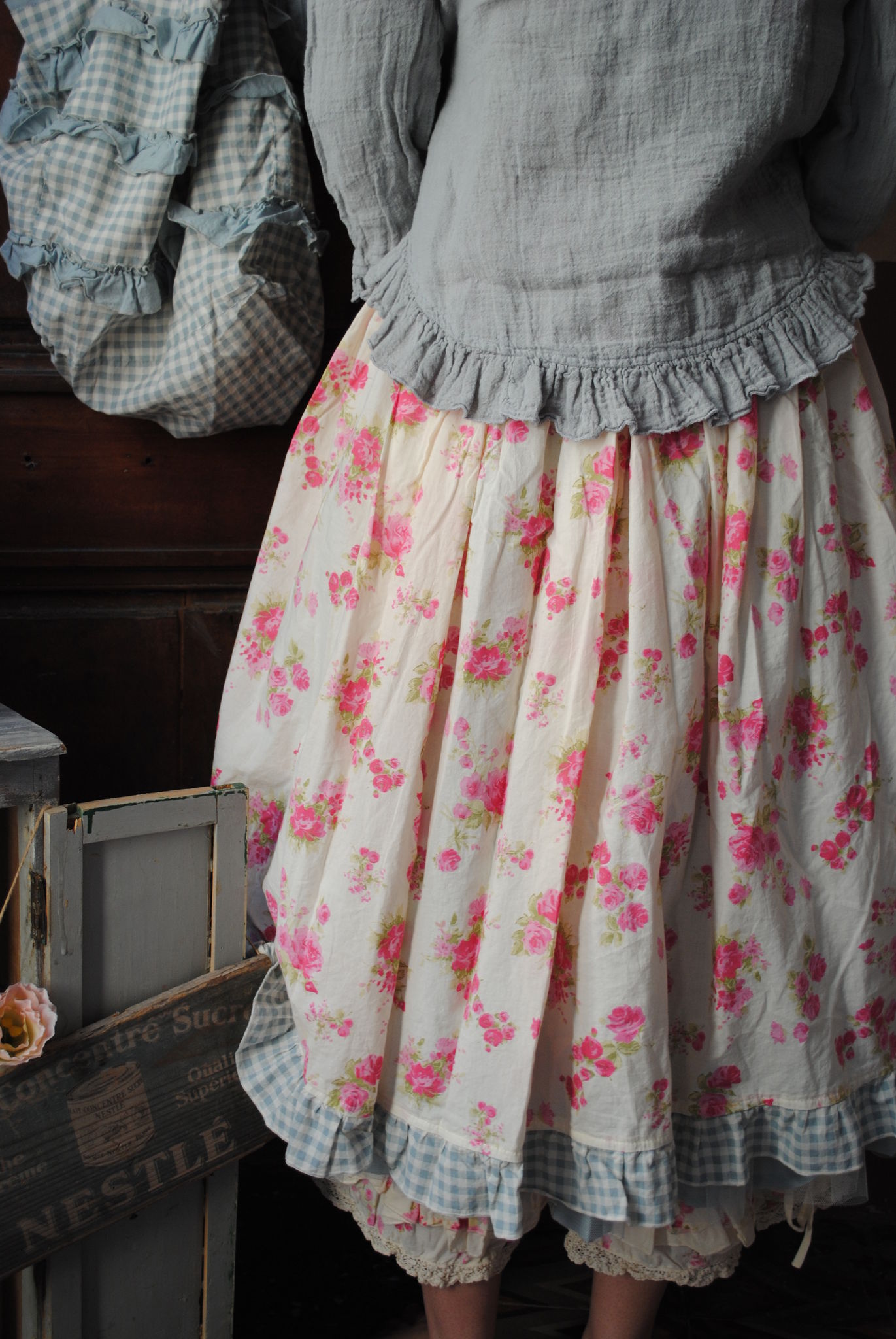 I had forgotten, however, about this outfit*** I pinned on my Pinterest Historic and Retro Sewing Board. Me oh my, it gives me ideas for deploying that really cool ruffle.
Can't you just see that snakey, raw edged, twisted, ruffle in a very light weight denim? I can. It's slithering along the edge of a nicely flowing denim shirt or jacket. Perhaps it's just a touch narrower.
And in combination with something like this floral skirt in a lovely, fluid voile - or maybe a homespun style check or plaid like the trim on this skirt -, it would really hit the spot.
I bet you know how it goes. Historically inspired, modern fashion is the kind of sewing daydream that keeps me....
Enchanted by Sewing!
* Seventeenth and Eighteenth-Century Fashion in Detail, by Avril Hart and Susan North
Search the V&A Collections http://collections.vam.ac.uk
** Details on and photos of the glorious gold sack-back gown at http://collections.vam.ac.uk/item/O127134/sack-back-gown-unknown/
I have several Pinterest sewing theme boards at http://www.pinterest.com/lrshimer/ You don't have to join Pinterest to look at them.
*** I'm not sure of the original context for this garment. I saw it on someone else's board. The only link that comes up for it is
http://p7.storage.canalblog.com/76/26/647625/85282790_o.jpg